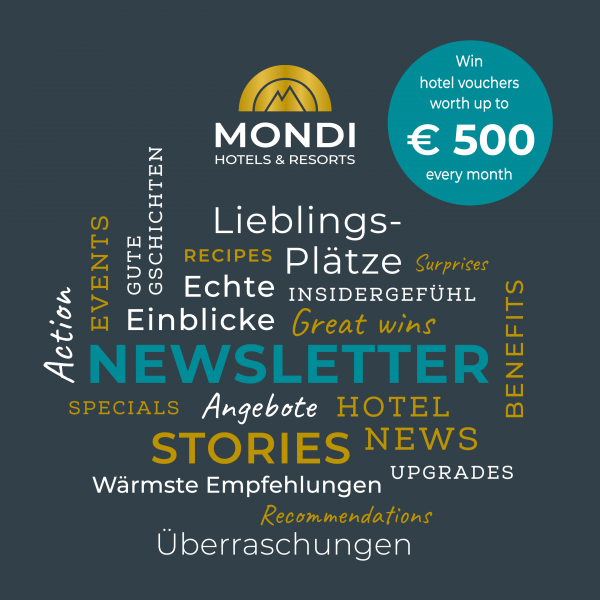 The big MONDI Competition
Subscribe to the MONDI newsletter now & secure a chance to win vouchers worth up to € 500.
We are giving away three time-off vouchers every month. Redeemable in one of the five MONDI Hotels & Resorts of your choice.
1st prize: MONDI voucher worth € 500
2nd prize: MONDI voucher worth € 300
3rd prize: MONDI voucher worth € 200
The winners will be picked at the end of each month. The winners will be notified directly by email. Vouchers can be redeemed subject to availability and are valid for 3 years from the date of issue.
Simply enter your e-mail address below and register for the free MONDI newsletter. Check your inbox (also spam folder) for our response and confirm your email address. With a bit of luck, win a MONDI voucher and start planning your next time off straight away. Enjoy the latest specials, top offers and real insights from MONDI Hotels & Resorts every month.
Anyone over the age of 18 who is interested in taking a time off in the mountains can take part. Appreciate individual comfort. And find their ideal holiday model in the combination of apartment and 4-star hotel comfort. Detailed information can be found in the conditions of participation.